Play smart — Robert Alberts
September 4, 2011
Coach wants Crocs to play thinking game against Super League giants Kelantan
KUCHING: Robert Alberts shout from the sidelines whenever his charges were not doing up to his expectation.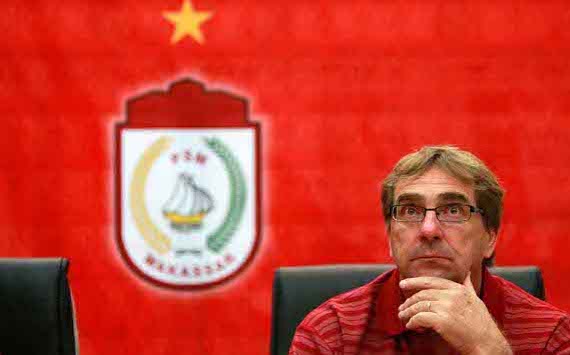 As the game against Kelantan drew nearer, the Sarawak coach was obviously trying to motivate his players. He stopped training every now and then to give pep talk to the players. His voice was very loud and clear.
He demanded his players to think, nothing less. Alberts want his boys to think to overcome Kelantan.
When the training completed, Alberts gave them a pep talk before the players made a thunderous cheer "Sarawak" echoing in the empty stadium.
Speaking to thesundaypost after the gruelling two hours training, the manager cum chief coach emphasised that there are big gap between Premier League and Super League football.
He stressed that Sarawak have no other choice but to play thinking football to create an upset against Malaysia Cup champions Kelantan at home on Tuesday.
"At lower level in the Premier League they can get away with certain thing (mistakes) but against Kelantan they will kill you if you don't think," he nailed.
"They must think very carefully because they are playing against the best team in the country," he said.
Alberts, who lead Kedah to Malaysia Cup and Super League wins previously, does not minced his words.
"Players, especially at lower level they don't think. They run a lot and lost a lot of energy, good players run only when they need, that why they have a lot of energy because they think. Like my grandmother and your grandmother always said, if you don't have it here (pointing to the head), you must have it here (pointing to his knee)," he said.
He insisted that Sarawak will not play negative football or commit fouls in order to stop Kelantan players from playing good football.
"My philosophy is we must play good football to stop the opponent from playing their game and not playing bad football or do bad things," he stressed.
Alberts was very impressed by the players performance during training and is very optimist that his charges can match Kelantan.
"For our level from the Premier League to play against Kelantan champion of Super League, we are ready. We look forward to the match," he said.
He, however admitted that there is a very big gap between the two team squad as Kelantan is having a very good depth, whereas Sarawak had very few to choose from.
He had a good laugh reading the newspaper as Kelantan declared crisis when having to play with only two goalkeepers throughout Malaysia Cup.
"Looking at the newspaper, I was having a good laugh today. They said they will only be having two goalkeepers for Malaysia Cup campaign.
"We have gone through whole season with only two goalkeepers. For us that is normal, for them they said it is a crisis. From there you can see the difference," he said.
The Sarawak squad that start training at 4.30pm at Stadium Negeri on Saturday also saw the
arrival of new coach, former Harimau Muda A goalkeeper coach, P Mohan.
While Roberts and Farhan polishing the Sarawak attacking formation finishing touch, Mohan were busy with Mohd Azley Abdullah drilling Aidiel Mohd and Mohd Azlen in between the goalpost.
Also seen training today was Hamidin Manap who undergone an operation recently due to knee injury.